​In Memory of Erin Marie Babineau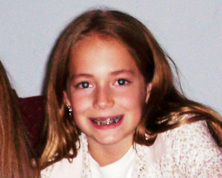 Erin's Gym has been built with love in memory of our daughter/sister, Erin Marie, who was born in Connecticut on July 12, 1994 and was tragically killed in a tour bus accident while our family was on vacation in Jamaica on February 22, 2005 at the young age of 10.

There were five of us, Jeff, Donna, and our three children Rachel, Erin, and our son Cory. After that fateful morning, we are left to honor her memory and cherish the moments of a special child that was taken away from us so senselessly.

Erin was the happiest child you would ever meet. She was always smiling and full of life. People would ask us "Is she ever not smiling?" Whether on the pitcher's mound or finishing her dismount off the balance beam, that infectious smile was always there. She loved to hold hands, sit close, and give kisses upon kisses. " Her laugh would make others laugh. She had a great sense of humor.

She never realized how many people she touched in her life. We continue to miss her every day and cherish those ten wonderful years we had with her. We will love her forever. She will always be a part of our lives and watch over us from up above.

Erin's legacy will live on, as the building will always be known as "Erin's Gym."



---